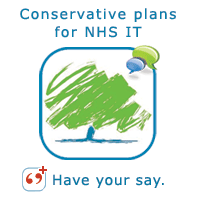 The Conservatives have promised to "dismantle Labour's central NHS IT infrastructure" and instead move to a choice of local accredited patient record and clinical systems.
Following the publication of the Independent Review of NHS and Social Care IT the Conservative party pledged to abolish the NHS national database of electronic patient records, but then say firms – including Google and Microsoft – be allowed to host patient controlled records accessed online.
As a first step they promise to "Halt and renegotiate the contracts Labour have signed for IT service providers to prevent further inefficiencies."
The commitment raises the prospect of an incoming Tory government becoming embroiled in legal disputes with BT and CSC, the two main IT firms that hold local service provider (LSP) contracts. The government has been locked in legal dispute with Fujitsu since terminating its LSP contract in April 2008.
The Conservatives say the NHS National Programme for IT has proved bureaucratic and been plagued with delays and cost overruns and proved hugely disruptive to the NHS. They promise reform focused on local choice of systems, and pledge they will deliver cost savings from the £12.7 billion IT project.
The Conservatives say that in Government they would "stop imposing central IT systems on the NHS" and instead "allow healthcare providers to use and develop the IT they have already purchased and developed, within a rigorous framework of interoperability". As part of a new approach use of open source across the public sector will be given a new priority.
Taken together the Conservatives say the measures "will deliver huge cost savings and ensure that NHS IT is geared towards the needs and wishes of patients".
Dr Glyn Hayes, chair of the review, said: "The review makes clear that NHS IT will only succeed in improving patient care if information is held locally and centred on the patient."
Speaking on Sunday Shadow Health Secretary Andrew Lansley outlined new proposals to allow NHS patients access to their records online would give people "greater control over their own health care".
Firms such as Google or Microsoft, both of which are developing personal health records, could host such patient controlled records, enabling users could update their medical records with information like blood pressure and cholesterol levels, he added.
Patient records should be stored locally rather than on a national database, with the capability of transferring the information when necessary.
The Tories say that buying such PHR systems "off the shelf" instead of developing them at taxpayers' expense would mean that personalised records system could be delivered at "little or no cost to the taxpayer".
Link
Independent Review of NHS and Social Care IT (1.3Mb)