Sue Rushbrook, head of systems and network services at York Hospitals NHS Foundation Trust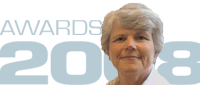 Winner: Healthcare ICT Champion of the Year
Sue Rushbrook, head of systems and network services at York Hospitals NHS Foundation Trust, is this year's Healthcare ICT Champion of the Year.
Since 2000, her trust has been working on an information and communications technology strategy that has not only seen it develop a cutting-edge voice and data network but integrate it this with its core computer systems. Lyn Whitfield reports.
Appropriately for somebody who has put her trust at the cutting edge of communications technology, Sue Rushbrook heard that she had won the Healthcare ICT Champion of the Year award by text message.
Rushbrook, head of systems and network services at York Hospitals NHS Foundation Trust, was on holiday in Australia when the announcement was made during the BT e-Health Insider Awards.
However, some of her team kept her informed about the progress of the black-tie dinner, and then let her know that she had won. "Australia is ten hours ahead," Rushbrook says. "So it was like waking up to breaking news."
The York communications revolution
In 2000, York Hospitals NHS Foundation Trust embarked on an information and communications technology strategy with HP, its systems integrator, and Cisco Systems.
It created a converged voice and data network for its York Hospital campus and then extended this into a community of interest network (COIN) that also spans Selby and York Primary Care Trust and the offices of two strategic health authorities.
The COIN is based on the Cisco Architecture for Voice, Video and Integrated Data and allows information – including digital images – to be shared across more than 100 sites and 7,000 users.
More recently, the trust has added wireless to its network in York. This is allowing staff to move away from fixed-line telephones and pagers in favour of using wireless IP handsets. "I have been surprised at how many people are opting to get rid of their bleeps," Rushbrook says.
"But it has made a big difference to a lot of staff, including our porters. Instead of getting a bleep to find a telephone to get called back to a ward where they have just been, they can pick up the message immediately."
Integrating communications and computer systems
More significantly, the trust has linked the new network to key computer systems, such as the patient administration system. "The really clever bit is that they have deployed an integration engine to integrate their wireless IP network with their Oracle Core Patient Database, using their in-house developers," says Terry Espiner, Cisco sector manager for healthcare.
This has enabled the trust to streamline its admission and discharge processes, because staff can send patient and scheduling information over the IP handsets. "Let's say a GP wants to admit Sue Rushbrook to hospital for abdominal pain," Rushbrook says.
"The clinician who takes that call will enter the details into our patient administration system, CPD. It will send a message to a wireless phone that includes the patient's name, demographic and GP details and expected time of arrival. So while I am travelling, the ward will have my impending admission details."
In addition, if "Sue Rushbrook" has been treated at the hospital previously, clinicians will have access to letters, test results and other information held at the hospital about her. And if she has been admitted from a GP practice in the Selby and York area that uses EMIS, they will have access to a summary of her primary care record, as well.
"Once I have arrived, the on-call team gets a message and they send a text to say they know that and will be coming up to clerk me in," Rushbrook continues. "The ward manager gets an alert if that does not happen. That is a safety issue; if something has not happened in four hours, they can find out what is going on."
A similar process is followed for admissions from the accident and emergency department. Managers can use the IP handsets to real time information on, for example, how many patients are on their way to the hospital and how many people are waiting in A&E.
And when a patient is ready to be discharged, nurses can use the IP handsets to alert the CPD, which flags the bed as ready for cleaning and re-use. "The system shows us how busy the hospital is, so we can take action and get additional resources in place if we need them," Rushbrook says.
Building on solid foundations
The York and Selby COIN serves as the foundation for the wireless network, which is overlaid on it using the 802.11 standard for wireless local area networks. It is integrated with the trust's PAS and other systems using the Cisco Unified Application engine.
"They made the investment in converged communications, then in getting that into the community, then in the wireless network and now they have gone that step further by integrating the wireless network with CPD," says Espiner.
"They can track things and people around the hospital and that is cutting waste and time. It's a great demonstration of how, if you have the foundations in place, you can really start to make technology work for you."
However, one of the reasons that the trust has been able to take this significant step is that it decided, back in the 1980s, to employ a team of in-house developers to work on the Oracle solution. "Each time we have reviewed it, we have come to the conclusion that it was the right decision for us," Rushbrook says.
"We have been able to recruit some very skilled people. But the real benefit of having a team on site is that clinicians can come and talk to us about what they want, we can show them things, they can tell us what they like and don't like without that taking up a lot of time.
"We can get a level of clinical engagement that we might struggle to get otherwise." Rushbrook is a learning disabilities nurse by training and insists that she is "not an IT expert." She also says her focus is always on what IT can do to support clinicians and to improve care for patients.
She admits she was initially "embarrassed" to have been put forward for the Healthcare ICT Champion of the Year award, which is sponsored by Microsoft but chosen by voting by E-Health Insider readers. However, she now says she was "incredibly proud" to see her team's work recognised.
"There are 53 of us," she says. "What we have delivered has been down to all of us. Since we won the award, people have phoned up and said how pleased they were to see us getting some recognition.
"I think that as a team, we are so focused on getting on and getting things done that we tend to forget to tell people about the work we do. So it is nice to get some recognition for that." Meanwhile, she is still very pleased with the text. "It shows the technology works," she points out.
Related article: